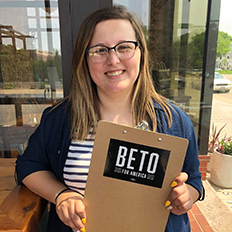 Maggie Peterson '20
Political Science
Dream Come True
This article was originally published by the Mount Mercy Times on Sept. 26, 2019 by Barry Doe, staff writer.
Maggie Peterson, a senior majoring in political science and psychology, just had the internship of her dreams this past summer.
Peterson had the chance to campaign and intern for presidential candidate Beto O'Rourke by being a part of a group that reached out to potential voters, and get campaign details to the people.
"It was a once in a lifetime opportunity," said Peterson.
"It was a once in a lifetime opportunity."
Her first memory of being interested in politics was when Barack Obama won the 2008 presidential election. Peterson became very interested in the 2018 senate election when Beto O'Rourke decided to run. Although he didn't win, she felt that the things he believed in would really make an impact on her life. 
"I was amazed at how he was this nobody from the house of representatives that was running up against one of the biggest names in Texas politics."
Politics was not Peterson's first choice for a career path. Initially she was a biology and chemistry double

major, but she changed her mind weeks before her freshman year. Peterson chose political science because of her past experiences. She loved her high school American government class even though it challenged her and a political science class at Mount Mercy motivated her to pursue the major.
Maggie Peterson is from Wapello, Iowa, a small town of about two thousand people in the southeastern part of Iowa.  Peterson is set to graduate in just three years of attendance at Mount Mercy. She left high school with almost two years of college credits. 
Aside from politics, Peterson loves music. She is in the choir and band on campus. With the little free-time she has, she likes to hang out with her friends and watch Netflix.