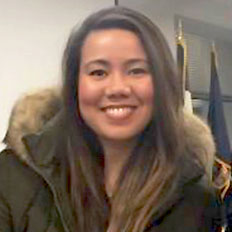 Patricia Ochs '18 MSL
Founder and Chief Executive Officer, Sergeant Sender
Taking Care of Her Own
Patricia Ochs '18 MSL, a U.S. Air Force veteran, created an online startup sending personalized care packages to military personnel.
When she was 18 years old, Patricia Ochs '18 MSL joined the U.S. Air Force.
It was an easy decision at the time; her father served in the U.S. Navy for 13 years, and her brother serves as a U.S. Navy Reservist. She also likes order and organization. "It felt like it was a good stepping stone and was something I needed to do," says Ochs.
Volunteering at UnityPoint Health-St. Luke's in Cedar Rapids throughout high school, she developed an interest in health care. After graduating from boot camp at Lackland Air Force Base, and finishing tech school in the top of her class at Fort Sam in San Antonio, she moved to Washington, D.C., where she was an Air Force Reservist at Joint Base Andrews, pursuing a career in health care management.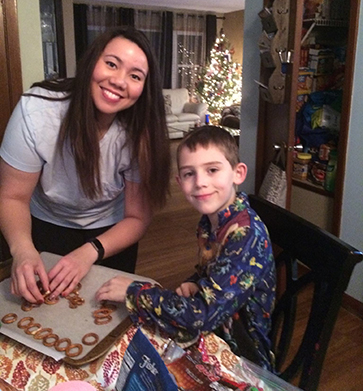 After spending more than two years there, the pull to move back to Iowa to attend college grew strong. So Ochs returned home, where one of the first things she did was join Big Brothers Big Sisters.
"That's when I was matched with my seven-year-old little, Logan, who I've been paired with ever since," she says.
After earning her associate and bachelor's degrees upon her return, Ochs is now enrolled at Mount Mercy to pursue a master's degree in strategic leadership. She also continues her work in the health care field as a marketing communications specialist for Jones Regional Medical Center in Anamosa.
She spends a lot of time managing her own startup business, which began as a simple class project to earn her bachelor's degree. 
"Everyone had to come up with an idea to pitch to the class and work on throughout the semester," says Ochs. "One of the class requirements was to submit an application to the Entrepreneurial Development Center's Innovation EXPO."
"It was kind of an accident, and I'm still in shock that happened."
Out of 10 groups, hers was one chosen to pitch at Innovation EXPO, a community-sponsored business accelerator in Cedar Rapids that provides economic growth through the creation and expansion of high-impact Iowa businesses.
Interest in her idea grew, and her class project turned into a legitimate business. "It was kind of an accident, and I'm still in shock that happened," she says.
The concept was born out of the loneliness and isolation she experienced first-hand at boot camp. "When I was laying in my bunk at night, I wished I had items from home," she says. "Being in boot camp, you can't have any outside items besides what you're issued. I knew if I was feeling that emptiness for eight short weeks, then the men and women overseas must be feeling it 100 times more."
I knew if I was feeling that emptiness for eight short weeks, then the men and women overseas must be feeling it 100 times more.
Originally called Sergeant Sender, she's in the middle of renaming and rebranding her company. But the notion behind it will remain the same: People can use a website to connect with and send a personalized care package to someone in the military.
"Maybe you know someone in the military or maybe you don't, but you want to send a care package," said Ochs. "Based on gender and age, I'll help select appropriate items, or you can shop through the online portal and order what you'd like. From there, I do the shopping, bundle everything up, and ship it."
"I'm creating connections with the U.S. Postal Service and the USO to get packages overseas via the cheapest and quickest route possible." The items available on the website are a compilation of what Ochs and her friends—many of whom have been deployed—say they need and want the most.
Each time a care package is sent out, Ochs includes a handwritten note, letting the recipient know who the package is from. She hopes that her business will help those in the military realize that their work is valued and that they're not forgotten about at home.