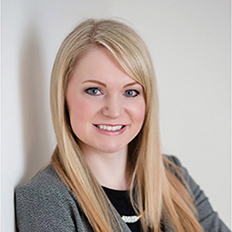 Heather Morgan-Sowada
Assistant Professor of Marriage and Family Therapy
About
Heather Morgan-Sowada is a licensed marriage and family therapist in the state of Iowa.
For the last six years, she has been treating individuals, couples, and families in private practice at Cornerstone Brief Therapy, Inc.—in both Cedar Rapids and Coralville. Prior to Mount Mercy and Cornerstone, she worked in a variety of mental health settings, including a psychiatric medical institution for children and a community mental health agency performing in-home behavioral health counseling services. 
An alumna of Mount Mercy's marriage and family therapy master's program, Morgan-Sowada is currently earning a PhD in couple and family therapy in the Psychological and Quantitative Foundations Department at the University of Iowa. She has obtained All But Dissertation (ABD) status and graduates in May 2018. Her dissertation explores the roles that relationships and attachment play in the development, maintenance, and recovery for individuals diagnosed with Body Dysmorphic Disorder. She has been published in the American Journal of Family Therapy.  
Morgan-Sowada has worked as the clinical coordinator of the LGBTQ Counseling Clinic at the University of Iowa and is passionate about providing services to the LGBTQ community, especially working with transgender youth and adults. She is a clinical member of the American Association for Marriage and Family Therapy (AAMFT), served as a board member of the Iowa Association of Marriage and Family Therapy (elections chair), and is an AAMFT Approved Supervisor Candidate. She was awarded the Mental Health Champion Award at the Iowa Mental Health Counselor Association's 2017 annual conference. 
In Spring 2016, Morgan-Sowada founded The Body Dysmorphic Disorder Clinic of Iowa—located at Cornerstone Brief Therapy, Inc. The BDD Clinic's mission is, "From out of the darkness and into the light. One solution at a time." As a recovering sufferer of BDD, Morgan-Sowada understands just how debilitating this disorder is and has devoted her career to learning more about effective treatment for BDD, especially through a family systems lens. 
Morgan-Sowada practices solution-focused brief therapy and recognizes that the patient is the expert in their own life. She works collaboratively with individuals, couples, and families to find unique solutions to the complex problems endured by sufferers of BDD. She believes that focusing on client strengths, not weaknesses, elicits hope and leaves room for meaningful and long lasting change. Through treatment, sufferers can feel empowered to change their life and take control of their BDD symptoms.