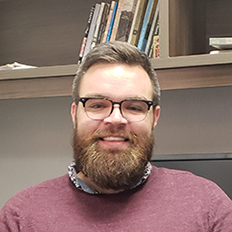 Anthony Mielke
Assistant Professor of Marriage and Family Therapy
About
Anthony Mielke joined Mount Mercy in 2018. He is a licensed marriage and family therapist (in Minnesota) and an AAMFT approved supervisor candidate.
Clinically, Mielke has provided services in a variety of settings, including in-home mental health and family therapy services to at-risk youth, families, and adults, as well as couples and family therapy in an outpatient setting. Prior to Mount Mercy, he worked as a therapist and clinical intern supervisor at Anicca Day Treatment Program in Chanhassen, Minnesota.
Mielke's academic work is focused on integrating existential and systemic theory to develop a systemic approach to masculinity studies. He has presented and offered trainings using this approach at professional conferences, graduate programs, and clinical agencies. Mielke has also held several graduate-level teaching appointments.
He completed a doctorate in marriage and family therapy at Argosy University, a master's in marriage and family therapy from Saint Mary's University of Minnesota, and a bachelor's in philosophy from the University of St. Thomas. He is a member of the American Association for Marriage and Family Therapy as a clinical fellow.