Katelyn Kral '22
Human Resource Management, Management: Corporate Social Responsibility
Merchandise Manager | Iowa Cubs
Keeping her eye on the ball
During her time at Mount Mercy University, Katelyn Kral '22 learned about the importance of networking. She put those skills to use to get one step closer to her dream career in the sports industry.
"I have always had a dream of working in the front office of the Chicago Cubs," Katelyn shared. That dream came closer to reality when Katelyn's internship with the Iowa Cubs led to a full-time job.
Katelyn was looking for internships when she found the Iowa Cubs Merchandise and Retail Operations Intern position. The role stood out to her because it was in the sports industry and she had experience as a retail sales lead.
"I have always had a dream of working in the front office of the Chicago Cubs."
—Katelyn Kral, '22
"With my merchandise background I figured this is just the perfect start to my career in the sports industry," said Katelyn.
Katelyn reached out directly to the Merchandise Director, Lisa Hufford. She was selected to interview and felt an immediate connection with Lisa.
"We were just jumping ideas off of each other; we were making that connection," said Katelyn. She felt that she could be herself during the interview process. In addition to the job, they discussed what a possible move to Des Moines would look like for Katelyn, including where she might choose to live.
Katelyn was hired and she was able to get hands-on experience. Her responsibilities included helping design merchandise, collaborating with other interns, inventory, mailing out online orders, and communicating with customers. Katelyn shadowed other jobs at the stadium as well.
Building Skills for Your Career | Katelyn Kral '22 (0:32)
Katelyn Kral at the Principal Park baseball stadium in Des Moines, Iowa.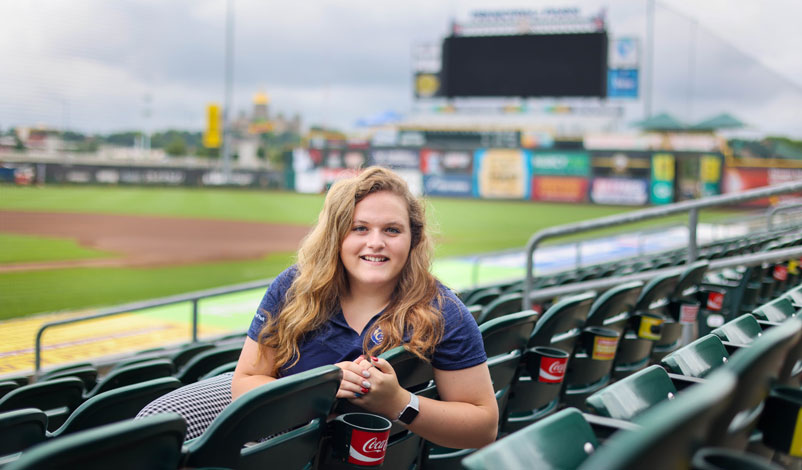 Katelyn was able to come closer to her dream of working for the Cubs with hard work and meaningful connections.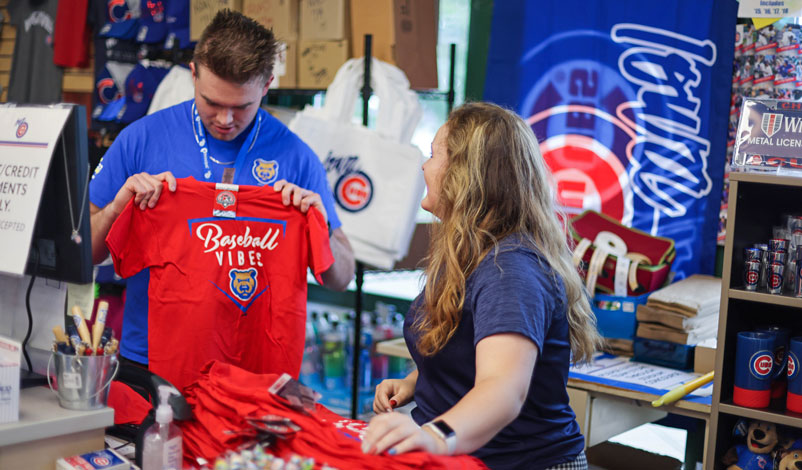 Her professors from Mount Mercy encouraged Katelyn to make the most out of her internship, and to keep in touch with her connections at the Iowa Cubs afterward.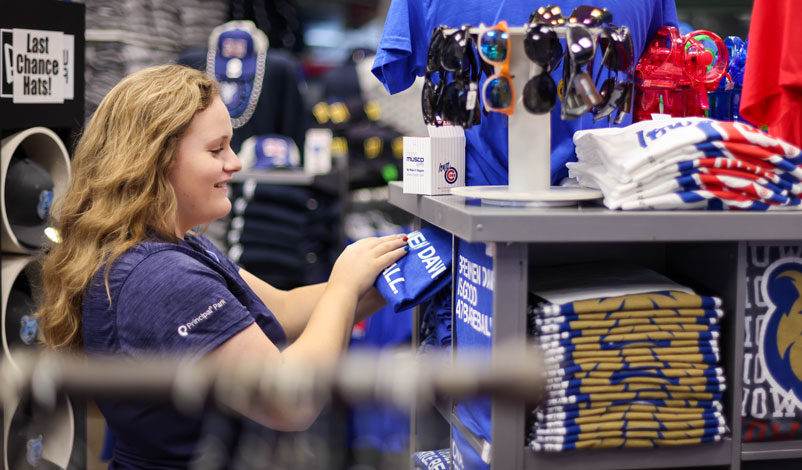 Now a Merchandise Manager for the Iowa Cubs, Katelyn is stepping up to the plate to make her dreams a reality.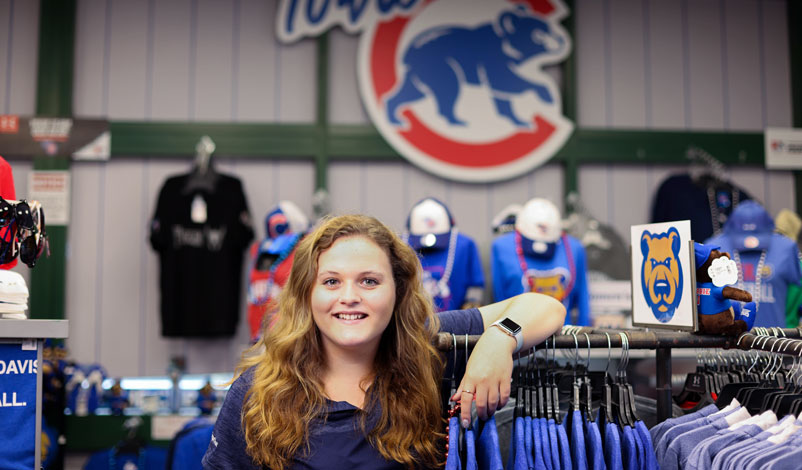 "Anne King (former Business Advisor and Outreach Coordinator) was so helpful during my internship," Katelyn shared, "she encouraged me to reach out to my superiors and supervisors and see if I could get different experiences at my internship, so I had more experiences under my belt."
When her internship ended, Katelyn kept in touch with Lisa. She regularly checked for open positions with the Iowa Cubs. When a Merchandise Manager position opened up, she immediately applied. Katelyn believes her internship—along with her continued connection with Lisa—helped her land the position.
"That's another thing I learned from Mount Mercy," Katelyn shared, "is keeping in touch with your connections and networking." Those connections paid off. Katelyn started her role as Merchandise Manager for the Iowa Cubs in March.
This role encompasses many of the tasks Katelyn did during her internship, along with working on social media, the online store, and leading four interns.
Internships really do pay off when looking for future careers. Especially if you get an internship in an industry you want to work in in the future.
During her time at Mount Mercy, Katelyn took a service leadership class with Nate Klein, former Vice President for Student Success, which helped her grow as a leader.
"Not only did we get to go out in the community and serve and volunteer our time, but we also gained a lot of knowledge about ourselves, and who we are as leaders—within the community, ourselves, workplaces, and our lives really," said Katelyn.
After taking the service leadership class, Katelyn knew she wanted to prioritize good leadership in her future career. She is excited to be able to grow even more as a manager and a leader in her new position.
Katelyn's internship with the Iowa Cubs gave her the opportunity to form lifelong connections and get to know the culture of the organization. She recognizes the importance her internship played in getting her new position, and she encourages other students to take advantage of similar opportunities.
"Internships really do pay off when looking for future careers," said Katelyn. "Especially if you get an internship in an industry you want to work in in the future."