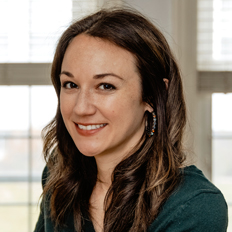 Haley Fernandez '16 MSN
Nurse Administration
Needing to Help People
Haley Fernandez '16 was a bed-side nurse after her BSN. She wanted to have a greater influence which motivated her to go through the MSN program at Mount Mercy. She reached her goal and became the Director of Quality and Risk Management at Eastern Iowa Health Center.
 MMU:  What made you want to become a nurse? 
HF: It sounds cheesy to say that I just wanted to help people, but it's the truth. Growing up with many family members in the medical field, and a parent in the non-profit human services industry, helping others and giving back was modeled for me at a young age. I have vivid memories of going with my Dad to the homeless shelter on the weekends to volunteer and participating in school and youth group service projects. My senior year in high school, I had a biology teacher, Mr. Cullinen, who brought science to life for me. I saw nursing as a way to combine my interest in the sciences and human services into a profession and career. 
MMU: During your time at Mount Mercy, what was your biggest challenge and how did you solve it?
HF: In the spring of 2015, about halfway through the MSN program at Mount Mercy University, I lost someone very close to me due to a drug overdose. The opioid epidemic wasn't as visible then as it is now, and the loss was unexpected and tragic and resulted in a shock that impacted my entire being. There was an outpouring of support from my MMU professors and classmates wanting to know how they could help. My professors were patient, kind, and understanding and worked with me to develop an individualized plan to get through my courses. The feeling of being truly cared for was palpable, and there was no way I would have made it to through the MSN program without the amazing faculty and my fellow MSN cohort of students.
"The feeling of being truly cared for was palpable, and there was no way I would have made it to through the MSN program without the amazing faculty and my fellow MSN cohort of students."
MMU:
What inspired you to go further than just the BSN degree? Did something during your time at MMU influence you to go further? 
HF: I didn't always know that I wanted to take my education beyond the BSN degree. After working as a bedside nurse in med-surg, I was exposed to the various opportunities that nurses have in the healthcare industry, administration, education/academia, advocacy, and more. I realized that I could have a greater impact in the field by furthering my degree.
MMU: Tell us something about your job? What is your exact job description? Could you walk us through a day and tell us why you decided to go that way?
HF: I work as the Director of Quality and Risk Management at Eastern Iowa Health Center (EIHC). EIHC is a non-profit federally qualified health center with 3 locations serving Linn County and the surrounding areas for Family Medicine, Pediatrics, Behavioral Health, OB/GYN, and Dental. We believe in health equity for all and accept anyone and everyone, regardless of their insurance status or ability to pay.
As a member of the leadership team, my day to day work typically includes meetings with chief executives to discuss strategy, problem solving, and organizational decision making. A good part of my day is also spent leading process improvement projects, creating and implementing evidence-based policies, ensuring safety and regulatory compliance, health informatics optimization and data analysis. I also manage a small but mighty team involved in daily operations and patient services. I gain great fulfillment and joy from my job because of the impact I can have on the system in which we deliver care and because of the variety of projects that I get to be involved it.
Always open to learning and growing
MMU: Would you advise current students to go further than just the BSN? Do you have advice for current students?
HF: Obtaining a BSN is a great accomplishment. To those thinking about continuing their education in nursing, but maybe thinking "is it worth it?" or "what will I get out of it?", my advice would be just jump! We should always be learning, growing and the investment of time and money in yourself is worth it. Furthering your degree will only open doors of possibility. 
"My advice would be just jump!"
MMU: How did the BSN and MSN degree prepare you for your career? 
HF:  The MSN program provided a strong focus in writing, research, and presenting skills that have served me well in my current role. More than hard skills, the MSN provided me the knowledge and confidence in soft skills like developing professional relationships, work ethic, and decision making. As one rises higher in an organization to a leadership role, soft skills including teamwork, communication, and the ability to inspire and influence change, are what separate good and great leaders. As the healthcare landscape continues to evolve at a rapid rate, I believe soft skills are even more important for nurse leaders to have a voice in impacting the healthcare delivery system.
MMU: What was the most important take away from your time at Mount Mercy?
HF: Hands down it's the relationships that I was able to build with the faculty of MMU and with my fellow MSN cohort. I still look to Dr. Sharon Guthrie as a mentor and friend as I continue to develop as a nurse leader. Our graduating MSN cohort has an active Facebook page where we share job postings, interesting articles on nursing, and career development opportunities. I've been able to attend some MMU MSN alumni gatherings, which are a bunch of fun and also great networking events.
MMU: During your time in the MSN program, how did you handle stress?
HF: Working 100% as a med-surg nurse while going through the MSN program was stressful. I´m not the type of person that performs well with procrastination and subsequent self-inflicted tight deadlines, so planning ahead was really important for me. If I wasn´t sure where to start, I would make a list an prioritize what I needed to do, just like a nurse would triage patients. I also made sure to schedule in some time off to relax, practice self-care, and enjoy time with friends.