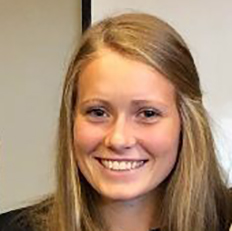 Annie Ertz '19, '22 MBA
Accounting, finance, & management
Securing Her Future
With a job already secured six months before graduation, Annie Ertz '19, '22 is able to apply what she learns to her career immediately.
MMU: Tell me about your journey to Mount Mercy. When did you decide you were interested in accounting/finance/management?
AE: I chose Mount Mercy because I was from the area, and I wanted to stay close to family. I also heard great recommendations for Mount Mercy's business program. I came into college knowing that I wanted to pursue an accounting degree, but I didn't add finance and management until meeting with my adviser. After sharing my goal of taking the CPA exam with my adviser, he suggested using the extra credit hours required to sit for the exam to earn additional degrees that would help in my future. This is when I chose to add finance and management.
MMU: You were offered a position at Collins Aerospace in the Finance/Accounting Department—congratulations! In what ways has MMU prepared you for this position? Who has been the most influential person during your time at Mount Mercy? 
AE: Mount Mercy has prepared me well for my internship at Collins Aerospace. I started interning in property accounting and have also worked in intercompany, accounts payable, and financial planning and analysis. In each of these roles, I have used information that I learned from my classes at Mount Mercy.
"In each of these roles, I have used information that I learned from my classes at Mount Mercy."
Excel is widely used, and one of my finance classes had assignments related to using different formulas. My professor, Rob Rittenhouse, said that a previous student in the class, after graduating, recommended that Rob add projects to develop Excel skills. This is a testimony to the instructors at Mount Mercy; professors are trying to prepare their students for getting jobs and being successful after graduation.
Picking just one person that has been influential is impossible.

In athletics, academics, and extracurriculars, several people have impacted me in so many ways and taught me so much. One experience that really sticks out to me was at the beginning of my time at Mount Mercy. I took Business Calculus with Bob Kolar my first semester, and I was struggling and asked him for help. He went out of his way to help me and showed up different times during the week to explain the material. This really confirmed for me that Mount Mercy was where I wanted to be.

MMU: You're actively involved in Enactus on campus. How has your experience helped you in your professional and academic career? Were you involved in other on-campus activities?

AE: Enactus has been an activity that has had a huge impact on my college experience. As a freshman, I got involved early and began making connections in the area and developing skills by working on different projects.
As a freshman, I got involved early and began making connections in the area and developing skills by working on different projects.
Being involved in an extra-curricular activity, like Enactus, allows students to apply the knowledge they're learning in the classroom and get experience before graduating. Some of the skills that I developed in Enactus include public speaking, website development, and creating business plans.
Over the last four years I've also been on the track and field team, as well as cross country. Being an athlete and full-time student was incredibly valuable for me. I learned to manage my time well and created some great relationships with my teammates. During my last two years I've also been a resident assistant. This experience was challenging at times, but I learned a lot about communication, conflict resolution, and mediation.
MMU: What advice do you have for students who are interested in pursuing a degree in finance/accounting or a related field?
AE: My advice to students who are considering a finance or accounting degree is to stick with it. The classes can get challenging, especially during advanced classes. The best way to keep up with the courses is to talk to your professor. One of the advantages of going to a small school like Mount Mercy is the small class sizes. This makes it very easy to get to know your professor, and from my experience, they will be more than willing to do whatever it takes to help you succeed.
MMU: What are you most looking forward to about your position at Collins Aerospace?
AE:  I'm excited about the rotation program that I'm joining. It's a 3-year program that includes different roles in various finance and accounting positions. This will help me learn a variety of skills and find an area that I'm interested in joining. I'm also looking forward to working with the people at Collins. During my entire internship everyone has gone out of their way to make sure that I have a good experience and am learning valuable information.