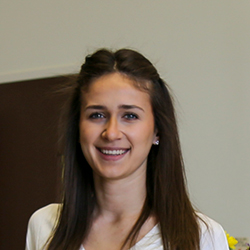 Andjela Calasan '19
International Management
Finding a Home away from Home
Calasan came to Scottsdale, Arizona, as part of an exchange program her senior year of high school. While she missed home, she was very grateful for her host family.
"They welcomed me like they knew me for years," she said. "I believe they're one of the reasons I ended up staying here and liking the American lifestyle."
Her host family grew up in Des Moines, and both parents went to the University of Iowa. They endorsed Iowa when it came time to choose a college because of the state's reputation for high quality education and the opportunity to experience a different part of the U.S
I knew MMU was the place for me once I arrived and realized how nice and welcoming everyone is. They made my transition seamless
"I'm not sure how I found MMU, but I somehow connected with the women's soccer coach and talked to her about possible scholarships," said Calasan. "She was amazing and connected me with Amir Hadzic '05, '10 MBA, director of international recruitment and head men's soccer coach."
Calasan and Hadzic formed a close bond soon after getting to know his background.
"Amir was born in Bosnia and, since we both came from the former Yugoslavia, we connected really well," said Calasan. "He told me there was a great program for international students and that I would enjoy the experience."
Growing up, Calasan was exposed to her family's business and really enjoyed it. That led to her majoring in marketing and international management. Throughout her four years at Mount Mercy, Calasan was involved in Enactus, a student business club on campus, which allowed her to make professional connections.
The summer before her senior year, Calasan landed a marketing internship with TrueNorth, an insurance company in downtown Cedar Rapids. She stayed with the marketing department after the summer was over and then transferred to the risk management division, working with the construction specialty group.
"TrueNorth was amazing in providing me the opportunity to learn about other departments within the company and try something new," said Calasan. "They made it fun, challenging, and interesting."
"They welcomed me like they knew me for years."
Before Calasan graduated, TrueNorth offered her a full-time position as producer coordinator in the construction group. She credits internships as a great way to prepare students for the professional world, especially since TrueNorth is still her employer. Calasan is glad she stayed in Cedar Rapids because she's now able to build on the connections she made while in school.
"Working for TrueNorth has been so enjoyable," said Calasan. "It stuck out to me because of the way they treat their employees. They promote and invest so much in young talent."