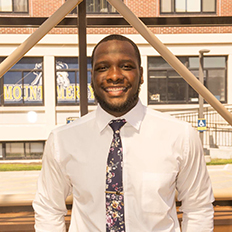 Sheawn Bedford '17, '19 MSL
Becoming a Mustang
With a strong passion for basketball and an excellent work ethic, Sheawn Bedford '17, '19 MSL learned several life lessons on the Hill.


MMU: Tell us about your journey to Mount Mercy. Since you are originally from Texas, how did you find your way to Cedar Rapids? 
SB: Out of high school, I attended Black Hawk College in Illinois on a basketball scholarship. I really enjoyed the Midwest after spending two years there. When it was time to decide on my next school, I went on a visit to MMU and really enjoyed it. I felt it would be a good fit for me. I also really enjoyed the basketball staff and thought I would get better as a player and person playing for MMU.
MMU: Athletic Director Paul Gavin was the head men's basketball coach during your freshman year, and you played two seasons under current head coach Aaron Jennings. What impact did these coaches have on you?
SB: I can't begin to explain how much Coach Gavin and Coach Jennings mean to me. When I arrived at MMU, I knew Coach Gavin would get the most out of me as a player and person. He was always honest with me. In my redshirt year I served as a student assistant for the team. I learned a lot from Coach Gavin. He wanted me to see the game from a different perspective. The team ended up with the best record in school history that year. To be honest, that was probably my favorite year at MMU. It was a magical season. When I returned to MMU in the fall, I was so excited to play for Coach Gavin. After a few weeks of preseason workouts, he told us he would be taking over as athletic director. This meant I was not going to play for the coach I came here for, and I couldn't believe it. However, I understood he had to do what was best for him.
Coach Gavin let us know that Coach Jennings would be our new coach. At the time, I didn't really know Jennings well, but little did I know he would become one of my favorite people. 
Coach Jennings was tough on me from day one. He knew I had the ability to lead our team, and he wanted to hold me accountable. There were times when I didn't understand why he was so hard on me. I am so thankful he was though. I would not be the person I am today without Coach Jennings. Our team would go on to win a conference title that year and finish in the Sweet 16 at the national tournament. The following year, we moved to a more competitive conference. We were picked to finish 12 out of 14 teams in the preseason rankings. However, we finished 2nd in conference, were conference tournament runner-ups, and earned another national tournament berth. That would have never happened without Jennings. He is one of the main reasons I wanted to get involved with coaching after MMU. Coach Jennings is everything a young man like me wants to be. He is a great basketball coach, but an even better man. I still talk to Gavin and Jennings often, and I am very blessed to have them in my life.
I knew Coach Gavin would get the most out of me as a player and person. He was always honest with me about everything.
MMU: You were the graduate assistant for Coach Mims and the women's basketball team for two seasons. What did a day for you look like as a full-time graduate student and assistant coach?
SB: During my time as a GA and graduate student, I would always come in early and leave late. I enjoyed doing individual workouts throughout the day with the players. Before the season started, we did several individual workouts to help the women improve their game. I usually had class twice a week. Since these classes took place at night, I was able to get all my workouts done throughout the morning and late afternoon. 
When the season started, I found myself getting in a good routine. I knew what Coach Mims expected of me as a GA. I also started to develop relationships with my classmates and professors. I worked really hard and probably did more than I was supposed to do, but I love seeing kids improve at basketball with hard work.
MMU: What is your favorite Mount Mercy memory? 
SB: I have two memories that stick out in my head. The first one has to be my redshirt year winning conference and making it to the Sweet 16 at nationals. That year was crazy! Before the season started, our team lost a brother in a drunk driver accident. Danny was my best friend on the team. I played with him at Black Hawk College, and he was a big reason why I went to MMU. That year was about honoring him and his family. I know he is in heaven proud of us. The second memory that comes to my head is winning the first round nationals game against Southern Oregon my junior year. We won in overtime! It was a team effort, and we won with a winning tip in. One of the most exciting wins in school history!
I worked really hard and probably did more than I was supposed to do, but I love seeing kids improve at basketball with hard work.
Bedford at the Danny DeBacker Memorial Bench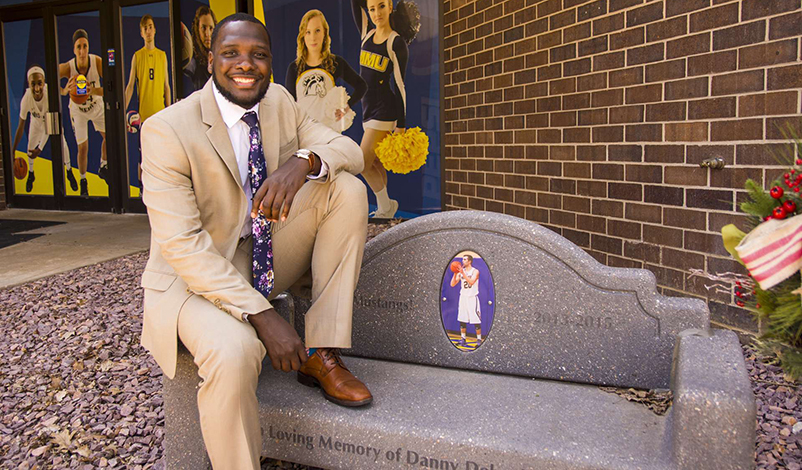 Bedford in front of the University Center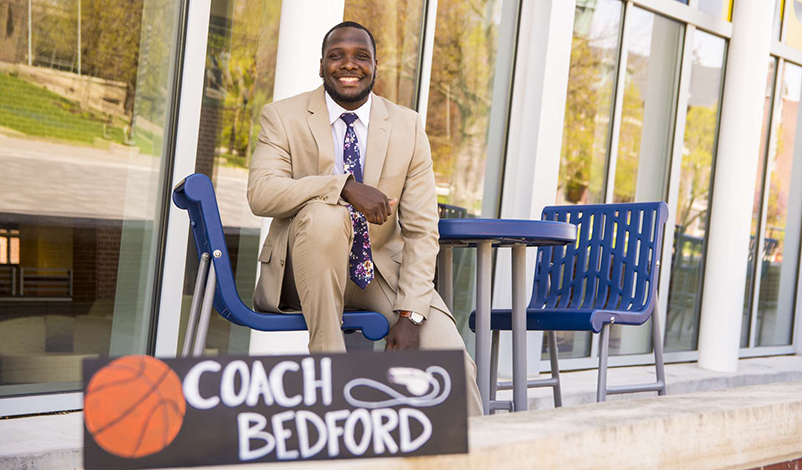 Bedford coaching the women's basketball team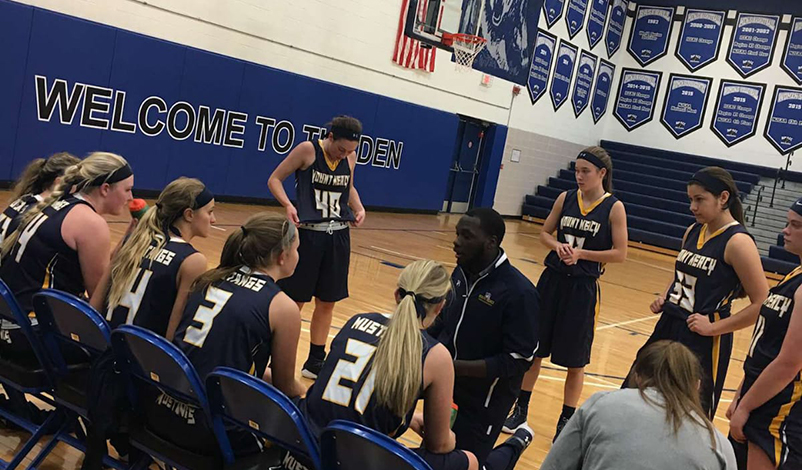 MMU: After you graduated in 2019 you went back home to Texas. What are you currently working on? 
SB: I am currently working with the San Antonio Spurs. Every summer when I go home to visit my family and friends in San Antonio, I would serve as a camp coach for the Spurs' camps and clinics. I really enjoyed learning from a lot of great basketball-minded people. So after I graduated with my MSL from MMU, I knew I wanted to continue coaching the game that has changed my life.
An opportunity presented itself for me to have a bigger role with developing the Spurs' camps/clinics. I felt it was a good opportunity for me to learn the business side of what makes the San Antonio Spurs organization so special. This summer, instead of coaching at the camps, I will take on a new role as gym director. I am looking forward to running the show and making sure our camp is one of the best in the NBA.
MMU: What are the most valuable lessons you learned at Mount Mercy?
SB: The Hill has taught me a lot. The most important thing I took from MMU was how important it is to work hard and be a good person. I am a big believer that good things happen to good people. Working hard and being a good person don't cost a dime. Students that come to MMU and do those two things will enjoy their experience on the hill.
MMU: What are you missing most looking back on being a student on the Hill? 
SB: I miss seeing everyone on campus. I miss playing in Hennessey and getting the crowd hype by slapping the floor. I miss playing for Coach Jennings and playing with my teammates. There are so many things I could say I miss, to be honest. Mount Mercy will always be like home to me. I always try and visit when I get free time. I thank the good Lord for my time there. I can't wait to see what all the current students do after they graduate. Many of them will be future leaders of our world. Go Mustangs forever!