Lia (Basemann) Dickes '17 didn't bat an eye when her manager asked if she would work on floor 5E at UnityPoint Health-St. Luke's Hospital—the COVID-19 floor.
"I knew this was something I needed to do," Lia said. "As a nurse, this is something I could do to help several people."
Afraid of contracting and passing on the virus, Lia and her fiancée (now wife) lived apart for three months during the height of the pandemic.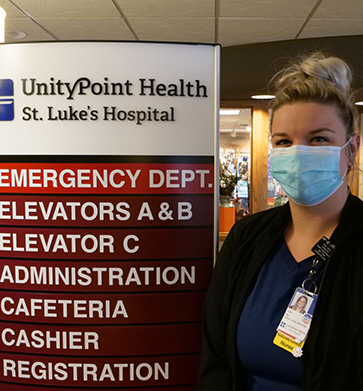 "I didn't know how much this would impact my personal life," said Lia. "It was difficult to work some of the hardest shifts of my life and then come home to an empty house."
Several nurses with different specialty areas came together to treat patients on the COVID-19 floor where Lia worked as a primary nurse. To conserve personal protective equipment, she and fellow nurses interacted with patients in clusters.
"It was much different than a usual day on my cardiology floor," said Lia. "I usually can walk in and out of my patients' rooms as many times as I want without any thought."
Although she was surrounded by the infectious virus, putting her own health and safety at risk, Lia's patients were her number one priority.
"Many nights I cried to myself on the way home, praying my patients would still be there when I went to work the next morning," said Lia. "Several times I didn't know if I could go back to work because I didn't know if I could emotionally handle it."