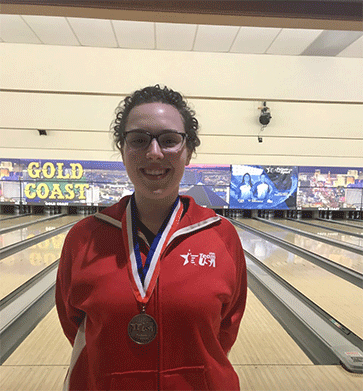 MMU: You recently made the Junior Team USA bowling team, congratulations! How did you feel when you found out you made the team?
CC: It was very exciting to make Junior Team USA. I earned a spot automatically based on my performance, so after the last block of competition I knew that I had made it. I felt that it was a culmination of all the extra time and effort I have put into improving. It motivates me to keep working because I proved what I could accomplish with hard work and determination.
MMU: How do you balance your academic responsibilities with your athletic commitments?
CC: It can be very difficult to balance my academic workload as a student-athlete. We travel most weekends, so I've learned to use the time that I have wisely. I find ways to get it done, such as waking up earlier to finish homework, or doing it on the bus ride to a tournament. I've realized that the busier I am, the more productive I am. I've also learned that I can only be productive in bowling if I feel comfortable with my school workload, which goes along with me being a "student-athlete," with an emphasis on the "student" first.
I've realized that the busier I am, the more productive I am.
MMU: You are a double major. How did you decide to pursue two different degrees? What do you see as the benefit of double majoring?
CC: I came into Mount Mercy intending to major only in marketing. I took an introductory psychology course my first semester, and the professor told me that my personality would work well with a psychology major. I thought about it, and realized that if I intend to effectively market, I should understand how my target audience thinks and behaves. I have found that marketing and psychology fit together nicely, and frequently have overlapping concepts. I see double majoring as a benefit to make myself more marketable to a future employer.
MMU: What is your favorite Mount Mercy memory?
CC: My favorite Mount Mercy memory is from 2019 sectionals, which is the qualifier for the national collegiate tournament, the Intercollegiate Team Championships. After the first day, the team was down over 300 pins, but we rallied the second day to overcome this deficit and qualify for nationals. This was my first experience at nationals as a team, and it was awesome seeing the resilience we displayed as a team.