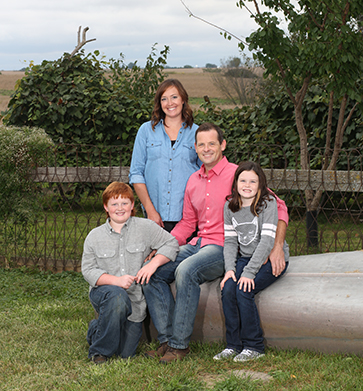 Entrepreneurial spirits at heart, as Rogan and Brenna thought about their future, they dreamed of creating something together. When their son, Bo, was 4, and their daughter, Mae, was 2, they unearthed an idea to bring their dream to life: farming.
"It wasn't farming that drove me," says Rogan. "I'm incentivized by the independence, and I liked the idea that we could farm together as a family."
So, in August 2011, the Stoops bought a six-acre farm in Lisbon, Iowa, becoming first-generation farmers who taught themselves through research, reading, and watching videos. Early on, they decided to pursue certified organic farming—which they also learned on their own. Rogan knew that organic farming was increasing in popularity, and he wanted to learn how to do it the right way instead of changing processes later.
"It wasn't farming that drove me. I'm incentivized by the independence, and I liked the idea that we could farm together as a family."
After setting up a few meetings and reaching out to a few contacts, Rogan and Brenna decided to pursue the path of wholesale distribution. So they named their acreage Bluebird Farms and created a 10,000-square-foot patch to grow tomatoes and peppers for their first farming season.
Soon after the vegetables were planted, however, they learned that the growing media they used to start the plants over the winter wasn't right for organic farming—and they didn't achieve organic certification. Despite this obstacle, the stores they developed partnerships with continued to support them.
The second farming season went better. With an investment in a larger tractor and planting equipment, they farmed three acres—ultimately producing 25,000+ pounds of food. The Stoops also earned their organic certification that year. But they had a desire to do and grow more.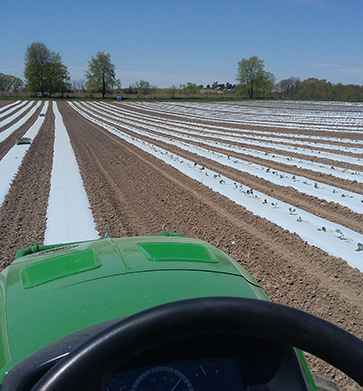 Bordering their property were 31 acres owned by a former farming couple. As the Stoops got to know them, and explained their plans for organic farming, the couple offered to sell their land to expand Bluebird Farms.
Five years later, the Stoops decided to act on the offer, buying the land from their neighbors to turn Bluebird Farms into a 37-acre operation.
"The couple came from a generation of hard workers, and I think they saw a bit of themselves in us. The little old tractor I started with—a Ford 8N—is the exact model our neighbor used to farm the land before they sold it to us. There was a real connection there," says Rogan.
As Bluebird Farms grew, Rogan's employer once again encouraged him to pursue higher education—this time, a master's degree.
"My wife and I aren't afraid of hard work, so I decided to go for it," he says. "We're not smart enough to quit or back down!"
Today, he's happy he made the decision to pursue an MBA.