Andersen's work
Seth Jackson, 19, who sustained a spinal cord injury in 2009, is one of those patients who has benefited from Andresen's care. "Megan helped me relearn how to get around in the outside world and more," Jackson says. "She even taught me how to do wheelies!"
Andresen is grateful for the education she received at Mount Mercy and says she feels she owes a lot to the school. 
"They were invested in my future and helped me get to where I wanted to go," she says.
So, now, Andresen is giving back by coordinating similar volunteer opportunities for students at MMU. Since patients can only be in therapy for a set time before insurance coverage ends, having students step in to help them continue exercises on their own is a win-win for everyone. Over the past eight years, six MMU students have connected with Jackson to help with his exercise program.
New connections, same Hill
Shelby Sorensen '18, a senior interested in an occupational therapy career, alters and tweaks Jackson's exercises as needed, which is something she'll do as a therapist.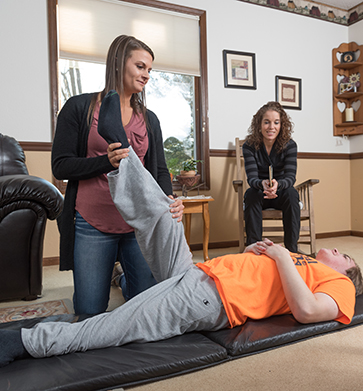 "I enjoy helping Seth, knowing he needs the therapy and it benefits him," Sorensen says. "He has a great personality and is always willing to work hard for the 30 minutes to an hour I spend with him each week."
Seth's mom, Jackie Jackson, says working with MMU students has been a wonderful experience."Any kind of interaction is good for Seth when his world became so small as a result of his paraplegia," she says. "The students are a real blessing and much appreciated."
"This has been a great opportunity for Shelby to get some hands-on experience and for Seth to receive a little extra help to do his exercises," Andresen says.
"I enjoy helping Seth, knowing he needs the therapy and it benefits him."
Seth agrees. "It's good to have a routine," he says, "but having Shelby and the students around help motivate me."
Sorensen says she has learned a lot about herself and how much she enjoys this field of work through her experience helping Seth over the past couple years.
"I love helping people," she says. "Working in this field will never feel like work because it is so rewarding."