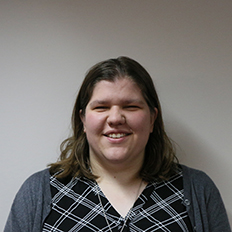 Library
Samantha Schwarz
Access Services Librarian
Education
MLIS University of Wisconsin—Milwaukee
MA University of Wisconsin—Milwaukee
About
Samantha joined the Busse Library staff in 2019.
She is responsible for leading collection development, cataloging print materials, and maintaining course reserves. She also supervises the library's student workers. In addition to these responsibilities, she serves as a liaison for the history, politics, and justice department.
Samantha received her MLIS degree and a MA in History from the University of Wisconsin-Milwaukee. Before coming to Cedar Rapids, she had previously worked as a teaching assistant and at two public libraries in Wisconsin. In her free-time, she can usually be found knitting.