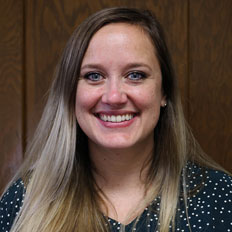 Psychology, Sociology & Social Work
Lacey Ritter
Assistant Professor of Sociology
Education
PhD Florida State University

MA Minnesota State University, Mankato

MS Florida State University

BA University of Northern Iowa
About
Prior to joining Mount Mercy in 2021, Dr. Lacey Ritter assisted in teaching sociology and gender studies at Wingate University in North Carolina.
While at Wingate University, Dr. Ritter co-created a medical sociology emphasis, several public health undergraduate and graduate programs, and the Collaborative for the Common Good—an interdisciplinary group focused on improving well-being in Eastern Union County, North Carolina. She also served on a variety of communities, received Mentor Medallions, and served as an honorary coach for the women's basketball teams each semester for three years.
Most notably, Dr. Ritter has several peer-reviewed articles such as "The Dating Game: Teaching Students about Social Location" and "Sexual Orientation, Internal Migration, and Mental Health during the Transition to Adulthood." She has also been involved in the publications of books, from "Ok Boomer" to "Marriage & Health: The Well-Being of Same-Sex Couples." Her first authored book was, "Sexual Deviance in Health and Aging: Uncovering Later Life Intimacy (Breaking Boundaries: New Horizons in Gender & Sexualities)."
In 2010, Dr. Ritter graduated from the University of Northern Iowa with a BA in sociology & anthropology. She received her MA in sociology with a college teaching emphasis at Minnesota State University in Mankato, Minnesota, 2012. She then went on to earn her MS from Florida State University in 2014 and her Ph.D. for sociology with an emphasis in health & aging in 2017.
Here at Mount Mercy, Dr. Ritter is excited to teach Introduction to Sociology, Social Problems, Sociological Theories, Methods of Social Research, Introduction to Gender Studies, and Social Movements and Revolutions. She loves everything about her field, but has a primary interest in aging and health—particularly gerontology and end-of-life as well as sexuality and sexual health. She mostly researches on emerging adulthood and occasionally likes to focus on deviance within the greater population. The best part she admires about sociology is the freedom to learn everything about a large variety of topics.
Dr. Ritter was born and raised in Greene, Iowa and spends plenty of time with her family of six other siblings, five nieces, and a nephew. She adores her puppy Abraxos, who is also an Iowa native. Moreover, she is a major theatre junkie and used to sing and act in theatre during her graduation year at Florida State University. Her favorite holiday is Halloween—as she appreciates all things "spooky"—and enjoys traveling, yoga, reading anything she can get her hands on.