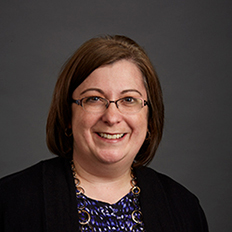 Education
Jennifer Rasmussen
Professor of Education and Department Chair
Education
MA Nova Southeastern University
BS University of Northern Iowa
About
Jennifer Rasmussen joined Mount Mercy's faculty in fall 2007.
She brought a list of certifications with her, including K-6 Elementary teaching, K-8 Reading, K-8 English/Language Arts, K-8 Music and is a Reading Recovery trained teacher.
Rasmussen earned her M.A. in Teaching and Learning from Nova Southeastern University and is a Doctoral Candidate in Curriculum and Instruction at the University of Northern Iowa.
Rasmussen believes teaching is not just what she does, but is who she is. Her grandmother was a teacher and Jennifer has been in-and-out of the classroom since she could walk. She values helping young teachers understand the complex interactions between teacher and student and uses her experiences to impact new generations of students.
Because Mount Mercy's mission is integral in preparing teachers who are effective in reaching the whole child, Rasmussen also believes that the university understands the importance of preparing teachers for all aspects of the classroom, not just academic factors.
When she is not in the classroom, Rasmussen is spending time with her family, watching them learn and grow.
International Reading Association
Association for Supervision and Curriculum Development (ASCD)
Iowa State Education Association
Nine years elementary teaching experience in Nevada Community School System

Two years in Reading Recover/Title I Reading
Seven years in integrated multiage primary classroom
An Invitation to Teaching
Diagnostic/Prescriptive Reading
Foundations of Reading
Principles of Education
Reading and Language Arts Methods