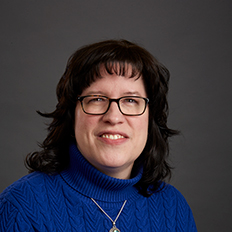 Library
Kristy Raine
Director of Library Services
Education
MLIS University of Iowa
MA Iowa State University
BA Huntingdon College
About
Kristy Raine joined the Busse Library staff in 1999 and served as reference librarian and archivist through 2017.
She is the director of library services and is responsible for all facets of library operations as well as promoting the library's role on campus. In addition to these duties, she also serves as the liaison to the business department and leads open education efforts on campus.
Raine received her bachelor's degree in English from Huntingdon College in Montgomery, Alabama; an MA in English from Iowa State University; and her MLIS from the University of Iowa. She is credentialed with a Certificate of OER Librarianship (Open Education Network), is active in Iowa academic library organizations, and is known nationally as a Grant Wood scholar thanks to her research project on the Stone City Art Colony.