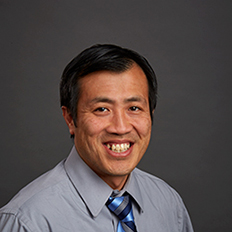 Natural and Applied Sciences
Joe Nguyen
Professor of Chemistry
Education
PhD University of Kansas
MS Indiana State University
BS Creighton University
About
Professor of Chemistry Dr. Joseph Nguyen joined Mount Mercy in the fall of 2010.
Prior to coming to Mount Mercy, Nguyen held various teaching positions, including teaching at Arlington High School in Indianapolis, Indiana. Nguyen holds a Bachelor's degree in chemistry, a Master's degree in education, and a Doctorate in chemistry.
Nguyen is a distinguished researcher and has participated in research projects at University of California, Irvine, University of California, San Diego, University of Kansas, and Creighton University in Omaha, Nebraska. His research topics included metal-organic frameworks, the design of inorganic/organic hybrid materials, and nanoparticulate materials. Nguyen's research has been widely published, and he has presented his findings at meetings and symposiums across the country.
Nguyen's research with undergraduate students at Mount Mercy is diverse and collaborative. One of his areas of research involves characterizing essential herpesvirus interactions in collaboration with Dr. Rich Roller's lab at the University of Iowa Carver College of Medicine, which began when he was a FUTURE in Biomedicine Fellow in the summer of 2001.
He has also started another collaborative research area with Dr. Keith Jarosinski at the University of Iowa Carver College of Medicine utilizing electron microscopy to identify and characterize dual infections in live hosts. A former research area involves producing biodiesel using environmentally sustainable methods, which is accomplished in collaboration with Drs. Keuseman and Bezy. Lastly, Nguyen is also interested in producing biopolymers that can be utilized in various applications, such as contact lenses and bandages.
Nguyen is a member of the Iowa Academy of Science, American Chemical Society, the American Association for the Advancement of Science, and Phi Phi Lambda Upsilon, the National Chemistry Honor Society. Nguyen has received the Distinguished Iowa Science Teacher Award from the Iowa Academy of Science in 2014 and the Faculty Award from the Mount Mercy University Student Government Association in 2013. He has received several research grants, including the R. J. McElroy Student Faculty research grant and the Better Future For Iowans research grants.
He was awarded grants from the Greater Cedar Rapids Foundation and Giacoletto Foundation in 2012 and from the Alliant Energy Foundation in 2015 for his educational outreach efforts hosting Science Fun Nights at elementary schools and the running the CheMMUsical Show, which is a fusion of story and song that brings science to life. Nguyen was also recently awarded an Engaged Scholar Faculty Fellowship through the Iowa Campus Compact, a coalition aimed at advancing the public purpose of colleges and universities, for the 2014-2015 academic year and the endowed Feld Chair for Mission through Mount Mercy University for the 2014-2016 academic years.
In his free time, Nguyen enjoys singing, running, cooking, and spending time with his family.
Nguyen, J. G., C. A. Johnson, B. Subramaniam, and A. S. Borovik. 2008. Nitric oxide disproportionation at mild temperatures by a nanoparticulate cobalt(II) complex. Chemistry of Materials 20: 5939-5941.
Johnson, C., B. Long, J. G. Nguyen, V. W. Day, A.S. Borovic, B. Subramaniam, and J. Guzman. 2008. Correlation between active center structure and enhanced dioxyben binding in Co(salen) nanoparticles: characterization by in situ infrared, raman, and x-ray absorption spectroscopies. Journal of Physical Chemistry 112: 12272-12281.
Johnson, C., S. Ottiger, R. Pini, E. M. Gorman, J. G. Nguyen, E. J. Munson, M. Mazzotti, A. S. Borovik, B. Subramaniam. 2009. Near-stoiciometric O2 binding on metal centers in Co(salen) nanoparticles. American Institute of Chemical Engineers Journal 55: 1040-1045.
Nguyen, J. G., and S. M. Cohen. 2010. Moisture-resistent and superhydrophobic metal-oranic frameworks obtained via postsynthetic modification. Journal of the American Chemical Society 132: 4560-4561.
Nguyen, J. G., K. K. Tanabe, and S. M. Cohen. 2010. Postsynthetic diazeniumdiolate formation and NO release from MOFs. Crystal Engineering Communication 12: 2335-2338.