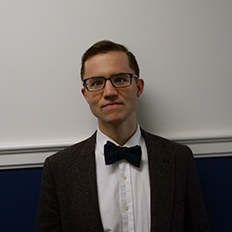 Philosophy and Religious Studies
Adam Myers
Assistant Professor of Philosophy
Education
PhD Baylor University
MAR Yale Divinity School
MA Wheaton College (Ill.)
BA Liberty University
About
Dr. Adam Myers, assistant professor of philosophy, teaches in the Philosophy & Religious Studies Department.
He joined Mount Mercy in August 2020, soon after finishing his doctoral work in philosophy at Baylor University, in Waco, Texas.
At Mount Mercy, Myers mainly teaches introduction to ethics, logic, philosophy of the human person, and introduction to Western philosophy. His dissertation explored the relationship between nature, human nature, and ethics, both in ancient and in modern philosophy. He is interested in a wide range of philosophical and historical topics and figures, from Aristotle to Hegel, from John Henry Newman to Adorno, from philosophy of art to philosophy of science. He has degrees in history and religion as well. Although a Roman Catholic, he spent a year living in the Lutheran seminary in Tübingen, Germany.
When he's not reading or spending time with his wife and children, he enjoys modest woodworking projects, watching films (favorite filmmakers: Buster Keaton, Martin McDonagh, the Coen Brothers) and listening to opera (esp. Mozart and Wagner). Besides philosophy, his areas of expertise include bread and cheese.