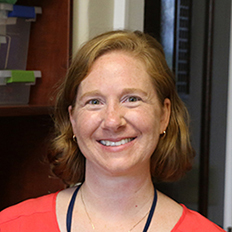 Education
Jenny Kramer
Assistant Professor of Education
Education
MAEd Mount Mercy University
BA University of Northern Iowa
About
Jennifer Kramer joined Mount Mercy in 2019 as assistant professor of education.
With 17 years of experience in elementary education and certifications in reading education, reading endorsement K–8, and mathematics minor K–8, Kramer brings in-depth knowledge and real-world experience to the classroom.
Previous to coming to Mount Mercy, Kramer taught at Grant Wood Elementary in the Cedar Rapids Community School District for seven years, and taught for 10 years at Wilson Elementary School. She also led the We Power Up tutoring program at Grant Wood Elementary and was a religious education teacher at St. Pius X School.
Kramer is currently teaching Science Methods and Child and Family Nutrition this semester. She's also currently supervising student teachers and practicum teachers. Later this year, she will be teaching Diagnostic and Prescriptive Reading and Adolescent Literature.
In her free time, Kramer takes and teaches yoga classes, rides her bike, rollerblades, and runs. She loves to read novels and tries to read a dozen or more every summer, and 1-2 a month during the school year. Kramer loves to travel and, most recently, she explored the miles of beaches in southern Maine and visited NYC.