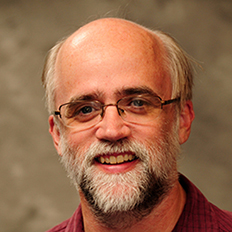 Communication, Literature & Arts
David Klope
Associate Professor of Communication
Education
PhD University of Utah
Graduate work in rhetorical studies at University of Iowa
MA San Diego State University
BA Biola University
About
Dr. Klope came to Mount Mercy in 2001, taking the long road to get here.
A native of Oregon, he did his undergrad work in the Los Angeles area, getting a BA in 1980 in speech/drama. He spent the next two years in San Diego working as a nationally touring professional actor, and then completed a MA in communication at San Diego State in 1984.
Looking for more interesting weather, he moved to Iowa City and did graduate work in communication, got married, and taught for a year at Mount Mercy (1986).  He then taught for a year in southern Utah and then finished a PhD in rhetoric in 1991 at the University of Utah.  He spent the next 10 years teaching at Trinity Christian College in the Chicago area, and finally found himself at here at Mount Mercy, teaching courses in communication and public relations and doing research in the areas of communication/PR and religion.
Dr. Klope is married with two grown children, and when not at MMU spends his time hanging out with his family and keeping every coffee shop in Cedar Rapids in business.