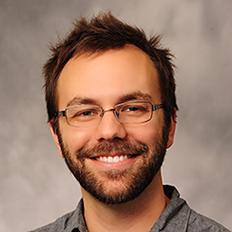 Communication, Literature & Arts
Joe Hendryx
Assistant Professor of English
Education
PhD University of South Carolina
MA University of Northern Iowa
BA Mount Mercy University
About
Joseph Hendryx joined the Mount Mercy faculty in the Fall of 2016.
Every summer, Hendryx also teaches a course on writing and social justice for the PEOPLE program (Pre-college Enrichment Opportunity Program for Learning Excellence) in Madison, WI, which is a competitive high school program geared toward providing underserved populations with college prep and scholarships. Hendryx is an alumni of Mount Mercy from the class of 2006; he received his MA from the University of Northern Iowa in Cedar Falls, and is currently ABD at the University of South Carolina in Columbia, SC.

Hendryx specializes in 20th and 21st century American literary, particularly poetry. He also minored in Rhetoric & Composition, which has given him the opportunity teach non-literature composition courses like Business and Technical Writing or Professional Writing. He has also spent a lot of time several universities working in one of his favorite academic environments, the writing center.
Hendryx wrote his MA thesis on John Berryman and has presented on his work at several conferences, including the Centenary Celebration in Dublin, Ireland. His current major project, his dissertation, is tentatively titled "American Garbage Poets in the Anthropocene" and surveys poetry from modernism to the present day that in some way engage with the complex materiality of the relationship between garbage and art.
In addition to Berryman, Hendryx enjoys reading A.R. Ammons, Samuel Beckett, Deleuze & Guattari, and 1000+ AP rhetorical analysis essays every summer at the annual scoring convention.