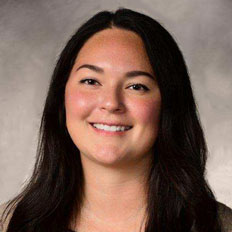 Nursing
Sarah Fowler
Assistant Professor of Nursing
Education
MSN Graceland University
BSN Chamberlain University
BS Iowa State University
ADN Scott Community College
About
Sarah Fowler, Assistant Professor of Nursing, joined Mount Mercy University in 2023 and has worked as a nurse since 2018.
Fowler's nursing career started at the Stead Family Children's Hospital at the University of Iowa in the Pediatric Operating Room. She became the team lead in the otolaryngology specialty, overseeing the education and providing opportunities for the staff to expand their knowledge on head, neck, ears, nose, and throat procedures.
While maintaining those two positions, she worked as the Co-Chair of the Children's Perioperative Unit Practice Council and maintained her involvement on the Staff Nurse Council for the hospital system—but Fowler still made time to be on the weekend staff later in her career and fill the Charge Nurse role.
Fowler teaches Challenges Along the Journey: Intervention for Alterations in Regulatory and Protective Mechanisms, Nursing Skills for the Journey, and Disease Paths.
She is passionate about pediatric nursing and still practices at the Children's Hospital when she can. She feels happy she found a career on the Hill and believes she is blessed to be a part of our community.
A fun fact about Fowler is she shares a birthday with her youngest son while her oldest son was only a day late in sharing his birthday with the both of them. In her spare time, she enjoys drinking a hot mug of coffee or tea and reading a good book, playing piano, and enjoying the outdoors with her husband, children, and 130-pound Newfoundland dog.