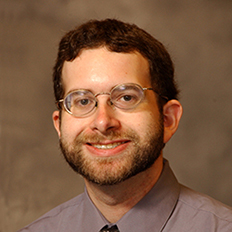 Communication, Literature & Arts
Christopher DeVault
Professor of English
Education
PhD University of Miami
MA Georgetown University
BA Wake Forest University
About
Associate Professor of English Christopher DeVault joined the Mount Mercy faculty in 2009.
Prior to joining Mount Mercy, DeVault taught at the University of Mary Washington, the University of Miami, and Northern Virginia Community College. He also served as managing editor for the James Joyce Literary Supplement, an international scholarly journal dedicated to reviewing all books about or related to James Joyce, Irish literature, and modernism. DeVault earned his Bachelor of Arts degree at Wake Forest University and his Master of Arts degree at Georgetown University. He received his Ph.D. from the University of Miami.  
DeVault specializes in modern and contemporary British and Irish literature, particularly the writings of James Joyce. His book Joyce's Love Stories, which analyzes the ethical and political implications of love in Joyce's works, was published in 2013 by Ashgate. He has recently started another book project that examines the ethics of mourning in Joyce's works. Also, his article, "Love and Socialism in Joyce's 'A Painful Case': A Buberian Reading," was published in College Literature in 2010, and his essay, "The Memory of Parnell: Juridical and Ethical testimony in 'Ivy Day in the Committee Room'", was recently accepted for publication by the James Joyce Quarterly.
He has also presented papers on Joyce, Joseph Conrad, G.K. Chesterton, E.M. Forster, Ian McEwan, and Zadie Smith at several academic conferences. In addition, he is involved in Mount Mercy's Pathways to Scholarship program, which promotes faculty-student collaboration in research and scholarship projects. In one recent project, DeVault collaborated with a Mount Mercy English major on a paper about Joyce's short story collection Dubliners that he presented at the 2011 North American James Joyce Conference in Pasadena, CA, and this paper will become part of a chapter in his new book project.  
DeVault's other teaching interests include British Romantic literature and American popular culture. He has also taught a British literature travel course with colleague Mary Vermillion that includes a 7-10 day trip to London, Oxford, Canterbury, and Bath. In addition to Joyce, his favorite authors include Jane Austen, Stephen King, and Ian McEwan.