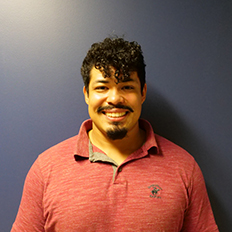 Communication, Literature & Arts
Devlin Caldwell
Assistant Professor of Art
Education
MFA University of Florida
BFA Kansas State University
About
Devlin Caldwell joined Mount Mercy in 2020. His research primarily focuses on the exploration of consumer-targeted-technologies, their psychological impact, and their ambiguity within the neoliberal sphere.
During his studies at the University of Florida, Caldwell focused exclusively on art and technology. His thesis, "Programmatic Artifice of Data Extraction," consisted of an interactive installation that paralleled ideas of diagnosis in mental health, with corporate-driven algorithmic processes such as data profiles and behavior analytics. 
While at Kansas State University, Caldwell focused on intaglio processes such as engraving and color etching. These traditional techniques were being studied alongside new media practices, such as coding, sensors, video art, and 3D printing.
In his spare time, Caldwell enjoys cooking, watching paranormal TV shows, and working in his studio.