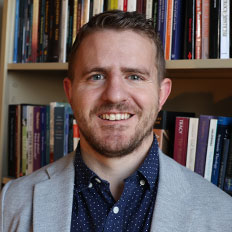 Philosophy and Religious Studies
Travis Lacy
Assistant Professor of Religious Studies
Education
PhD University of Notre Dame
MTS Duke Divinity School
BA Hillsdale College
About
Dr. Travis Lacy's first teaching role began in 2021 at Mount Mercy after he successfully defended his dissertation, "The Catholicity of the Church: An Augustinian Account," at the University of Notre Dame.
In his dissertation, he employs the thought of Augustine and the Augustinian tradition to give a both theoretical and practical account of the meaning of the word "catholic" as it applies to the church.
Before his doctoral studies at Notre Dame, Dr. Lacy received an MTS from Duke Divinity School and a BA from Hillsdale College. He admires and studies a wide array of thinkers within the Catholic intellectual tradition, including: Augustine, Bonaventure, Edith Stein, John Henry Newman, Origen of Alexandria, and Thomas Aquinas.
In his free time, Dr. Lacy enjoys spending time with his wife, Shannon, and their three children: Edith, John Henry, and Drew. He especially likes taking his children on walks, playing at the park, or attempting to win a hand at UNO with them. More recently, his wife has—and with limited success, so far—tried to get him to enjoy camping. When he's not with his family or playing with his children, he plays the piano, soccer, volleyball, and reads novels.