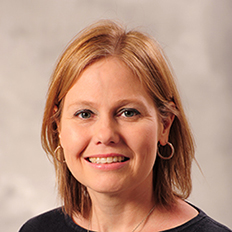 Graduate Programs
Amanda Humphrey
Professor & Director of Graduate Program Criminal Justice
About
Dr. Amanda Humphrey joined the faculty at Mount Mercy in Fall 2006. In 1999 Amanda joined the State of New Mexico Children, Youth and Families Department to work as a Juvenile Probation and Parole Officer. She was then admitted to the doctoral program in Criminal Justice at the University of Nebraska-Omaha in 2000.
While attending the University of Nebraska, she worked for two years, from 2000-2002, as a Technical Assistant for the Governor appointed Nebraska Juvenile Diversion, Detention, and Probation Services Implementation Team which examined the state's use of diversion and pre-adjucation detention for juvenile offenders. Following her work with the Implementation Team, Amanda spent 2002-2003, evaluating the Youth Emergency Services (Y.E.S.) program located in Omaha, NE. This program works with runaway and delinquent youth who need temporary shelter services. In 2003, Amanda took over as Omaha Site Coordinator for the Arrestee Drug Abuse Monitoring Program (ADAM) and served in that position until 2004.
Amanda obtained her Doctor of Philosophy degree with a major in criminal justice from the University of Nebraska-Omaha in 2004. In 2004 Amanda joined the faculty as an Assistant Professor, in the Center for the Study of Crime, Delinquency, and Corrections at Southern Illinois University in Carbondale (SIUC). While at SIUC, Amanda received a grant from the State of Illinois to analyze the state's victimization data and make recommendations to the Illinois Criminal Justice Information Authority regarding the need for victim services. Amanda remained at Southern Illinois University-Carbondale until 2006 when she joined the faculty at Mount Mercy.
Amanda has previously taught Victims of Crime, Juvenile Delinquency, Drugs and Crime, Death Penalty Seminar, Community Corrections and Introduction to Criminal Justice. Her current teaching load consists of Introduction to Criminal Justice, Corrections, and Senior Seminar. Amanda's primary research areas of interest are community corrections, women and crime, victims of crime, and drug use. Amanda is a member of the Academy of Criminal Justice Sciences and the American Society of Criminology.
Amanda was born and raised on a family farm in Southeast Iowa, where her parents and much of her family still reside. She and her husband currently reside in Riverside, Iowa.
PhD University of Nebraska—Omaha
MA New Mexico State University
BA New Mexico State University
Corrections
Drugs
Victims
Women's Issues